As a kid I was all about recycling, I share a bit about that here, in a post, Recycling 101, but lately I've slacked off. The house is a bit cluttered as it is and truly I don't want to add to the mess by piling up papers, plastic, and aluminium. It's just a project that will have to wait. However, when given the opportunity, such as cleaning out the closet from all my research papers for my thesis, I took a moment to take the kids down to our local recycling center and dump off a box of paper.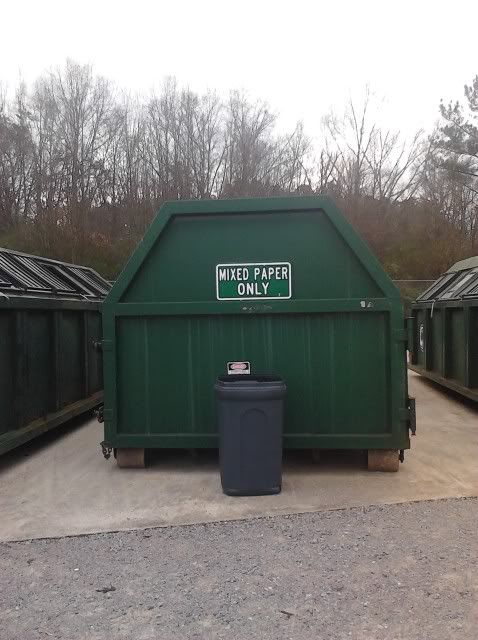 I am grateful to live only a couple miles from a center, therefore I can never make the excuse that it's out of my way. And with how convenient the centers are set up, you simply drive up and drop your material off in large dumpsters, the process only takes a couple of minutes. I didn't even get the kids out of the car. We simply pulled up to our marked container, I jumped out, tossed in my box, and away we went. One side of me felt proud as a productive member of Earth's residents while the other side realized I really could do so much more. I plan on looking into organizing a couple recycling containers for here at the house, planning to keep it as clutter free as possible. Honestly, I'm not sure how much of a difference my house will make in the larger picture, I can day dream and believe we're making it all grand and perfect, but truly, my wish is more for my kids to know and appreciate recycling. My mom always said we make a difference by teaching our kids and so the change continues on.
And here's a great article from the Times Free Press and Chattanooga Now on recycling centers of Chattanooga. So, why not get out and make a difference through recycling and Explore Chattanooga!
Like this post? Vote for me!