I enjoy cruising around the Blog world and checking out new blogs {well, new to me}. I always find something unique and interesting sitting on someone's blog space, for example, today I ran across a new
blog grader
and checked it out. It gave several referals to make to my blog to enchance traffic, I might give it a try.
Anyway, I'm linked up to: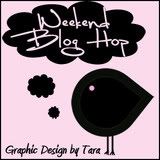 today and wanted to share the hop with all my readers in case you wanted to link up as well. Check out a blog or two!