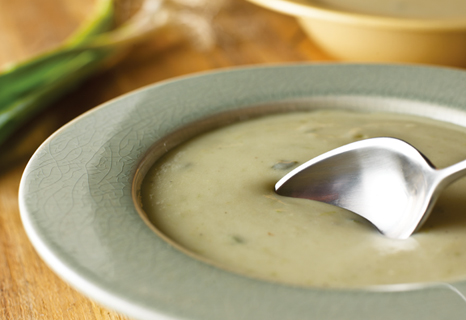 4 medium

green onions

, sliced (about 1/2 cup)
1 stalk

celery

, sliced (about 1/2 cup)
1 3/4 cups

Swanson® Chicken Broth

(Regular, Natural Goodness® or Certified Organic)
1/8 teaspoon
ground black pepper
3 medium

potatoes

, sliced 1/4-inch thick (about 3 cups)
Heat the butter in a 3-quart saucepan over medium heat. Add the onions and celery and cook until they're tender.
Stir the broth, black pepper and potatoes in the saucepan and heat to a boil. Reduce the heat to low. Cover and cook for 15 minutes or until the potatoes are tender.
Place half of the broth mixture and half of the milk in a blender or food processor. Cover and blend until smooth. Repeat with the remaining broth mixture and remaining milk. Return to the saucepan and heat through.
Thanks to Campbell's Kitchen I've discovered a quick and easy way to create a delicious dish of potato soup. The only changes I made: 4 potatoes instead of 3, 1/3 cup of vegetable broth, a pinch of salt and garlic, and I didn't blend the broth and milk. It's still a bit thick for me so I think next time I'll add sour cream to the actual mix, when it was added to my bowl it definitely smoothed it out more. I also topped my serving off with cheese and bacon bits. Mmmm good! And, I received a couple more recipes to try of this soup as well...I can't wait!
Like this post? Vote for me!